ARTEFACTS 
ROSE EKEN 2012 – 2018
PUBLISHED BY BOOK LAB
232 PAGES
HARDCOVER
210 X 270 MM
EDITION OF 500
WITH ESSAYS BY AROS MUSEUM DIRECTOR ERLEND HØYERSTEN, ART CRITIC AND WRITER MARIA KJÆR THEMSEN & WRITER AND CURATOR FRANCESCA GAVIN
PRICE –
€ 40.00
Available at V1 Gallery Store and BOOKLAB and Charlotte Fogh Gallery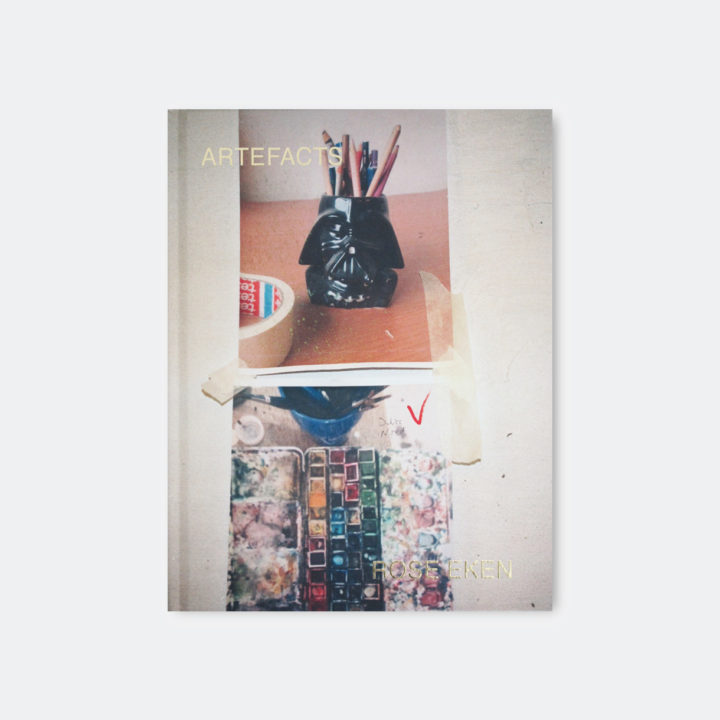 RESISTANCE
ZINE MADE ON THE OCCASION OF RESISTANCE – A SOLO EXHIBITION BY ROSE EKEN AT V1 GALLERY,
APRIL 20-MAY 19. 2018.
PUBLISHED BY TROJAN HORSE PRESS / V1 GALLERY, COPENHAGEN, DENMARK.
PHOTOGRAPHS BY ROSE EKEN AND V1 GALLERY.
INSTALLATION PHOTOGRAPHS BY JAN SØNDERGAARD.
EDITION OF 100
48 PAGES
210 X 297 MM
PRICE –
€ 15.00
Available at V1 Gallery Store



TABLEAU CATALOGUE 2015
Tableau Catalogue 36 pages. Edition of 200. The publication documents Rose Eken's exhibition 'Tableau' from studio to exhibition. Photos by Fryd Frydendahl and Jan Søndergaard. Graphic design by No 22 Studio.
Signed 'Tableau' catalogue available for 50 DKK / 8 USD / 7 EURO. Email: mail@v1gallery.com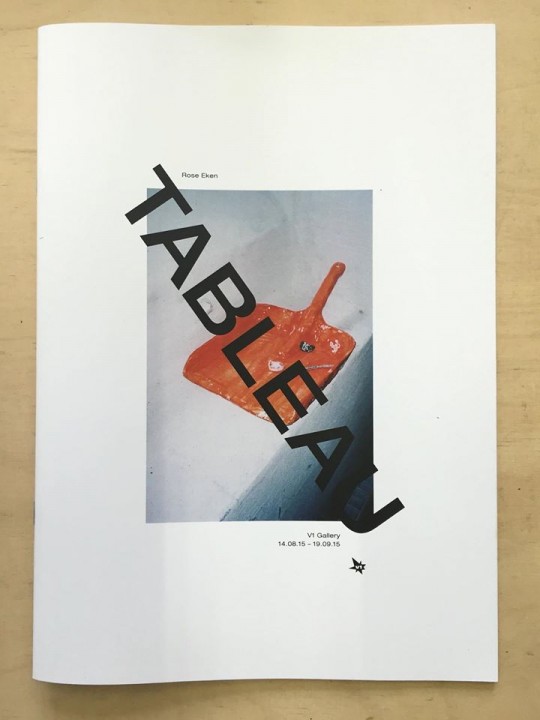 REMAKE/REMODELCATALOGUE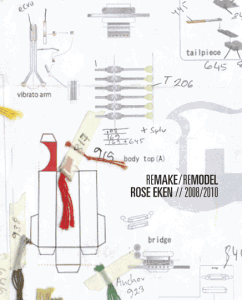 'The tone is set! Rose Eken's art is about rock music. An eclectic genre that is both raw and embracing. There is nothing as emotive as music – both to the individual and the collective, music has a unique ability to evoke the most charged of human emotions: love, hatred, intimacy, injustice – and good old-fashioned Weltschmerz. But rock culture also delineates a story of rebellion, revolution and revolt against the sexually repressed bourgeois culture. All of these traits can be found in Eken's artwork; the wild uncontrolled nerve of rock 'n' roll subtly curbed by a sensible disposition. Yet what appears restrained and controlled retains a ring of the fierce and the savage'.
This is how the writer and art critic Maria Kjær Themsen begins her introduction to the Danish artist Rose Eken's catalogue REMAKE/REMODEL. The book presents a significant selection of Eken's work from 2008 – 2010. Through various media such as ceramics, embroidery, video, watercolour, miniatures in cardboard, Eken (re)constructs worlds recognizable – yet particular, quirky, dark, and uncanny worlds inspired by rock music and the culture surrounding it. The publication consists of 200 pages of colour images with an introductory catalogue text in English and Danish and includes a double-sided A2 colour poster. It has been printed in 500 copies.
REMAKE/REMODEL is published by REPRINT
and is supported by the Danish Arts Council
ISBN 978-87-992410-1-9


REMAKE/REMODEL can currently be purchased at the following places:



Copenhagen:
Ordrup Boghandel, Ordrupvej 66
DRUMSTIC www.drumstick.dk


Odense:
Kunsthallen Brandts


Skive:


Berlin:
MOTTO BERLIN, Skalitzer Str. 68, im Hinterhof
PROqm, Almstadtstraße 48-50


or postal order by contacting REPRINT: rose@eken.dk
D.Kr. 275,- /  35€

Gemmebogen (The Book of Secrets)








In winter 2009/2010 The Danish Arts Council ran a 'Picture Book' competition where authors and artists or illustrators were invited to collaborate and to challenge the conventional picture book by creating an innovative illustrated book aimed at children between 8 and 12 years old. This competition led to a collaboration between myself and my sister Cecilie Eken, a well know danish author of children's books (www.cecilieeken.dk).
Our entry was Gemmebogen (The Book of Secrets) – a book in three dimensions. We were awarded third prize.
http://www.kunst.dk/litteratur/statenskunstraaddenillustreredebog/
'Gemmebogen' (The Book of Secrets) is not a traditional picture book rather it is a sculptural book – a book-sculpture. We wanted to explore the potential and the limitations of the picture book. What is a picture book? – Is it possible to reinvent it? – And how? And is it possible work with words and images three-dimensionally?
The result; 'Gemmebogen,' is a three dimentional book that folds in and out, twists and turns, opens and closes in endless ways continuously revealing and hiding text and images. Prose and illustration are revealed and concealed with each move or action. The individual text-pieces focus on the things we hide away – the things we do not say out loud, our untold thoughts, emotions, and states of mind. Each text-piece presents a new voice and collectively they form a choir of individual voices – each speaking directly to the reader. The book has no beginning and it has no end. It can be read in any order.
'Gemmebogen' (The Book of Secrets) is a bookshelf, a block of flats, a library, a labyrinth, a box of secrets… It does not reveal all at once rather it challenges its reader to be daring, curious, and willing to explore.
'Gemmebogen' (The Book of Secrets) makes use of numerous elements from the traditional picture book; flaps, hooks, drawers and pop-up objects etc. but the prose is aimed at older children. It aims to make the act of reading physical by pointing to the act itself as a process of deciphering and reinterpreting – making and remaking, thus challenging the readers imagination and understanding of what a book is and what is can become.
As yet 'Gemmebogen' (The Book of Secrets) only exist in one copy – but we are currently in the process of securing funding to publish 'Gemmebogen' in an edition of  50 – 100 copies.
VIDEO:




PDF: The Book of Secrets-overview



Cecilie Eken/Gemmebogen (danish only)
For more information please contact:
Rose Eken: rose@eken.dk or Cecilie Eken: cecilie@eken.dk

Leporello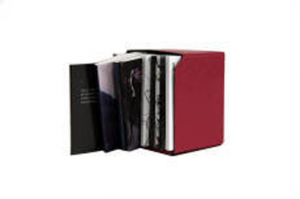 Lene Andersen og Ulrik Heltoft tager os her med ud på en tour de force gennem 1990'ernes coachingterminologi, Kaspar Bonnén udformer Lone Hørslevs poesi i lægter, Christina Wendelboe skimter fugleliv i Ebbe Stub Wittrups pastellandskab, Aleksa Okanovic dramatiserer en bustur med Birgitta Lund, Nina Søs Vinther møder Thomas Andersen i kalejdoskopiske scener, Lars Frost dækker bord for Rose Eken, Morten Schelde træffer Seimi Nørregaard til hest, Martin Larsen snurrer rundt om Maria Wandels sko, Trine Boesen farvelader Morten Søkildes anagram, Lars Skinnebach sender tankespind til Kristin Eiriksdottir og Helle Højland møder Thomas Seest på toppen af vulkanen Vesuvio.
Bogværket Leporello består af 11 bøger samlet i en kassette, 11 selvstændige samarbejder mellem én forfatter og én billedkunstner, én mand og én kvinde. Udgangspunktet har været at igangsætte en række samarbejder på kryds og tværs af de kunstneriske miljøer, motiveret og dikteret af leporelloformatet. Først og fremmest i håb om at skabe synergi mellem den danske scene for litteratur og billedkunst og for at give et bud på, hvad en kunstbog kan være som medie og objekt
I forbindelse med udgivelsen af bogserien har Third Ear bedt Thomas Seest udarbejde 11 pod-baserede kortfilm til netmagasinet thirdear.
De 11 kortfilm anvender Leporello bøgerne som forlæg og mestendels har kunstnerne været direkte involveret i form af tekstindtaling. Filmene beror på animerede billeder fra bøgerne, på visuelle tankeforbindelser mellem bog og verden eller på optagelser, hvori kunstnerne i større eller mindre grad performer foran kameraet.
http://www.thirdear.dk/leporello/eken_frost/
eller
VIDEO:

Læs mere på www.leporello.dk

Kvinden Adskilt i Hoveddele
Prosatekster af Jens Blendstrup til en billedserie af Rose Eken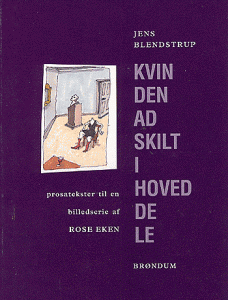 Brøndums Forlag 2003©
Udgave/oplag: 1. udgave, 1. oplag
ISBN: 978–87–912040–6–7